As one of the most important Indian Geospatial Industry Event, India Geospatial Forum 2012 will bring the stakeholders —solution / service providers, policy makers, users — to a single platform, providing supreme opportunities for discussion, deliberation and interaction.
India Geospatial Forum will prove a consolidated platform for integration and convergence of the geospatial ecosystem. The forum would lay focus on each and every part of the geospatial community be it user's agencies, policy advocates, knowledge workers, economists, ICT Gurus and many more. India Geospatial Forum will be a confluence of a variety of activities in the form of plenary, vertical conferences, seminars, workshops, panel discussions and round tables- covering the vast range of technology, application, policy, use cases from the region.
India Geospatial Forum 2012 will host two vertical conferences focusing on infrastructure (Geo-Infra) and e-governance (Geo-Gov), scheduled from 8 – 9 February, 2012.
GeoInfra aims to focus broadly on the development aspect of Transport and Construction & Engineering and provide a clear picture of latest geospatial technologies and its applications. This two days vertical conference will explore the complementary roles of government, private industry and the academic community in realizing better means for sharing geographic data and technologies to develop the infrastructure for meeting real world needs.
At present, the governance process involves the use of geospatial and communication technologies (geo-ICTs) for a smooth geo-governance inflow. The geo-ICT encompasses synergy and convergence of technologies dealing with several aspects of spatial data management. Therefore, GeoGov the two days vertical conference would focus on the e-governance initiatives which are effectively using geospatial for information management and maintenance.

Geospatial in India
The worldwide market for Geospatial Information Systems is forecast to grow 65 percent over the next five years, representing a compound annual growth rate of 12 percent. It is expected that the annual growth rate will slightly exceed GDP for 2011 and 2012 as global economies continue to recover. Figure highlights the percentage growth for the Indian geospatial industry vis-a-vis worldwide growth.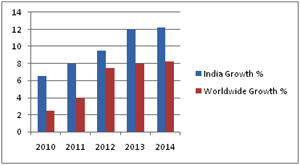 Fig: Growth of Indian Geospatial Industry vis-a vis worldwide growth